A Vision for Student Life
Georgetown's master plan envisions a more vibrant living and learning community that strengthens the student experience and better integrates residential, social, and academic life. Future residence halls and academic buildings seek to create spaces that allow invidual and group studying, provide access to student services, offer meeting and program space, feature sustainable designs and amenities, create functional outdoor space, and deliver a high-quality living environment. This vision for student life ensures Georgetown remains an attractive place for students to live and a competitive university for the future.
---
Student Life Corridor
The master planning vision for a living and learning community includes high-quality residential space and more space for student life. Upperclass students have expressed a desire to live in apartment-style housing that offers more single rooms, shared common space, opportunities for socializing, and a sense of greater independence. The master plan envisions a student life corridor in the heart of campus, anchored by O'Donovan Dining Hall and the Healey Family Student Center in the south and the Leavey Center in the north. Along Tondorf Road, the corridor would feature a new residence with apartments for juniors and seniors, a new academic and research building, and and two floors of space for meeting space, individual and group study space, retail, student services, event space, and social space. Student feedback on this concept is essential to understand how the student life corridor can best serve students in the future.


This cross-section of campus shows the concept of a student life corridor along Tondorf Road, looking west. Buildings from right to left are Village C, a new apartment-style reisdence hall, Harbin Hall, a new academic and research building, and Regents Hall. The student life space comprises the first two floors of these buildings, shown in blue, integrating residential, social, and academic life.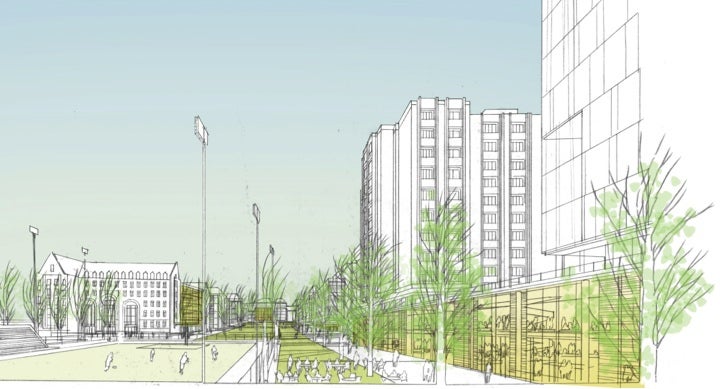 The concept of a student life corridor includes a new apartment-style residence hall, two floors of student space, and a pedestrian boulevard along Tondorf Road. The Multisport Field and the Hariri Building are on the left, with new apartments and student life space on the right. This concept envisions a pedestrian boulevard on Tondorf Road with new green space.
---
Henle Village and Village A
In addition to the student life corridor, the master plan envisions a renovation of Henle Village and Village A. New, high-quality spaces are important for the future of Georgetown as are improvements to existing facilities. Both the student life corridor and the apartment renovations are concepts in the master planning vision. As the plan further develops with stakeholder input, clarity about timing, costs, and projects will develop.
---
Former Jesuit Residence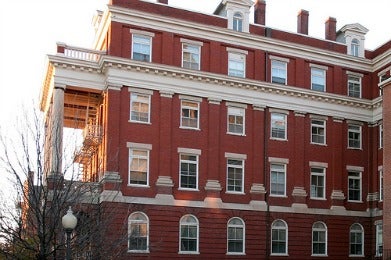 Georgetown is currently renovating the former Jesuit Residence in the historic heart of campus. The renovation of the building will rehabilitate the existing structure, create a student residential community in the core of campus, and preserve the community and heritage on the historic Dahlgren Quad.
The renovation will create a variety of living spaces, including apartment-style rooms with kitchenettes and semi-suites with semi-private bathrooms. Some rooms will make use of high ceilings and loft-style floor plans. Rooms on the upper floors will offer unparalleled views of the Potomac River and DC. Click here to download the latest sample floor plans and room designs.
The former Jesuit dining hall will become a large community space for residents of the building. Campus Ministry will retain the historic chapel on the main floor with access to Dahlgren Quad. The courtyard outside the building, formerly a parking lot, will become new green space. The renovation will also bring the former Jesuit Residence up to modern building codes, utilizing current sustainability standards while ensuring historic preservation. Building upgrades will ensure ADA accessibility, include installation of life safety systems, sprinkler protection, heat and air conditioning, refurbished windows, security, and network upgrades.
The University selected two firms with expertise working on historic campus architecture to design and renovate the former Jesuit Residence. Ayers Saint Gross is the architect for this project and Manhattan Construction, the firm that renovated Dahlgren Chapel, is the construction manager.
Students can tour the Former Jesuit Residence this spring and watch the building come to life.
Project Timeline: Construction begins May 2014; completion fall 2015
Project Size: 148 beds
---
Pedro Arrupe, S.J. Residence Hall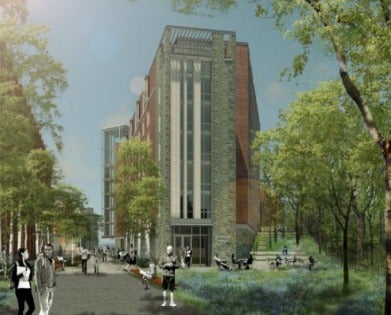 Pedro Arrupe, S.J. Residence Hall creates an opportunity to develop a larger and more dynamic student residential community on the north side of campus and to deliver a new residential experience on campus. Located along a major pedestrian pathway, Pedro Arrupe, S.J. Hall will fully integrate the residence hall with campus life.
Pedro Arrupe, S.J. Residence Hall will be an 8-story building with suite-style housing for 225 students. The ground floor of the building will not be a typical residence hall lobby but will be an active multipurpose floor with study space, meeting space, and social space for residents and non-residents to use. With large windows, the first floor will seamlessly connect with the walkway in front of the building, which will be redesigned and feature a new ADA accessible ramp from Red Square.
Featuring a green roof and other sustainable designs, the building will be the first newly constructed LEED-certified residence hall on campus. Other features include an indoor bike storage room and new and more usable outdoor space. The building will use only 50% of the lot and will create green terraces on the east side of the building, and outdoor seating at the south entrance.
Sasaki Associates, the architects for Pedro Arrupe, S.J. Residence Hall, worked closely with students and alumni through a series of open forums and small group meetings to design a building that will serve the university's students and the campus community well into the future. Click here to see the latest designs. Gilbane is the construction manager for the project.
Project Timeline: Construction begins August 2014; Completion fall 2016
Project Size: 225 beds
---
Healey Family Student Center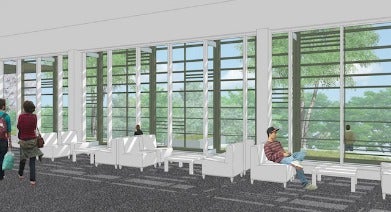 In September 2014, Georgetown University opened the Healey Family Student Center in New South Hall, a new hub of student life on campus. A gift from the Healey family helped create the new student center and students provided funding for the outdoor terrace.
The new student center includes 44,000 square feet of programming and social space, including:
Bulldog Tavern, a pub serving food to all and alcohol to those 21 and older
Hilltoss, a salad and smoothie service from The Corp
A "great room" with a fireplace hearth, couches, tables and chairs overlooking the Potomac River
Outdoor terrace with tables and chairs, fire pits, and green space
Four music practice rooms
Two dance studios
Individual study space
12 study rooms
3 conference rooms
TV lounge
Hermann Family Meeting Room for meetings and small events
Social Room for large presentations and events
The two-floor student center includes a new entrance from Library Walk and redesigned entrances at the ground level across from Leo's and from the Village A courtyard. The entrance across from Leo's is ADA accessible and elevators provide accessibility to the second floor and the entrance by Village A.